Welcome to the Tool Country USA Blog!
Check out the

  WEEKLY SPECIALS PAGE & SAVE MONEY NOW!!! 
 

SEE OUR

FUN STUFF

SECTION

 FOR
FUN FACTS AND NEW TRIVIA QUESTIONS!

*~~~*~~~*~~~*~~~*~~~*~~~*~~~*~~~*~~~*~~~*~~~*~~~*~~~*~~~*~~~*~~~*~~~*~~~*~~~*
Lucky You…

 
March is here and many people are thinking about leprechauns and luck. Luck is a common topic the world over and if you have it, you are part of a very small percentage (20%) of the human population. If you don't have it, don't fear, here are some tips sure to boost your luck. 
Lucky people often feel that a special amulet, which can be carried or worn, will help things go your way. So find that special something that can remind you throughout the day that luck is on your side.

Lucky people take different routes to get where they are going. They claim that many of their strokes of luck have come when they 'happened' upon a windfall while taking a new route.

Lucky people have many friends. This means many connections and many opportunities for things they want to be facilitated by others. So get out there and be social! 
All over the world people have little traditions and things they do to ensure luck.

If you have ever seen a waving cat, this comes from Japan where the luck cat -Maneki Neko is thought to bring good fortune to your home or workplace. A much less common symbol of luck is the frog which Australian Aborigines believe brings plant growth, storms, and rain. Then we can go to Norway where the acorns hold lucky power. The Norse people saw lightening striking Oak trees and thought the god Thor must like acorns so they must be lucky.
No matter what your lucky charm may be, life isn't lucky without good food so I have included a St. Patrick's day recipe for you and your family to enjoy.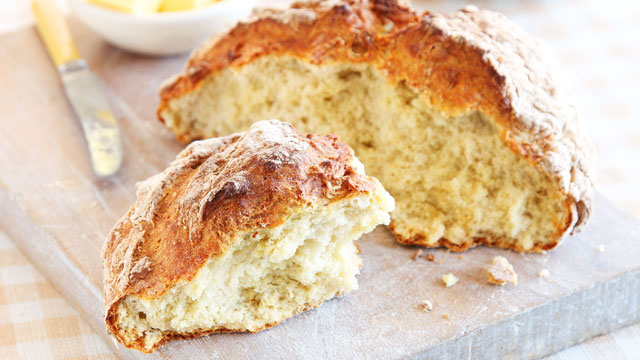 Easy Irish Soda Bread
4 Cups All Purpose Flour

4 Tablespoons White Sugar

1 Teaspoon Baking Soda

1 Tablespoon Baking Powder

1/2 Teaspoon Salt

1/2 Cup + 1 Tablespoon Butter

1 Cup Buttermilk

1 Egg

1/4 Cup Melted Butter

1/4 Cup Buttermilk
Oven should be at 375*. 
In a large bowl, mix up the flour, sugar, baking soda, baking powder, salt, and butter. In a separate bowl stir the buttermilk and egg together. Add the buttermilk and egg mixture to the flour mixture just until combined. Turn out onto a floured surface and knead slightly. Form the dough into a ball and place on a greased baking sheet. Combine the 1/4 c butter and 1/4 c buttermilk and spread over the 'loaf' with a brush. Cut an 'X' into the top of the loaf with a sharp knife. 
Bake for 45 minutes or until a toothpick to the center comes out clean.
Serve with Irish stew.

 Check back often for more about what is going on in the Inland Northwest!